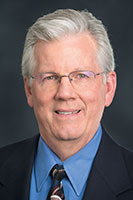 Bill began his appraisal career in 1973 with the commercial and investment appraisal firm of Shorett and Riely in Seattle, Washington and opened the company's first branch office in Anchorage, Alaska. In Denver since 1976, he earned an MBA degree from the University of Denver in Real Estate and Construction Management in 1979. Over the years, while conducting appraisals and market studies on a wide variety of semi-rural, residential, general, and special purpose commercial and investment properties, he has managed rezonings, development and redevelopment projects, and instructed appraisal courses.
Bill is a Certified General Appraiser (former member of the Colorado Appraiser Board) and a licensed Real Estate Broker in Colorado. He has been accepted as an expert witness in several jurisdictions and has performed appraisals and consulting assignments on a number of special purpose and narrow market properties, and under unique circumstances. These have included casinos, chemical distribution facilities, refrigerated food processing facilities, automotive sales and service centers, bowling centers, aircraft hangars, car washes, breweries, family entertainment centers, event centers, churches, theatre complexes, health clubs, assisted living facilities, golf courses, restaurants, and subsidized apartments. Many of these engagements required extensive feasibility analysis of alternative uses and eminent domain analysis and consulting.
Bill has prepared and taught appraisal courses at the University of Denver, University of Colorado, Community College of Aurora, the Denver Metropolitan Commercial Association of Realtors, and the Colorado Association of Realtors. In the Appraisal Institute, he is or has been Chair of the General Experience Subcommittee, Admissions Appeals Board and the General Appraiser Council, a member of the Board of Directors, Admissions Committee, Regional Ethics and Counseling Panel, Appraisal Standards Council, Master's Degree Program Subcommittee and a Director of the Colorado Chapter.