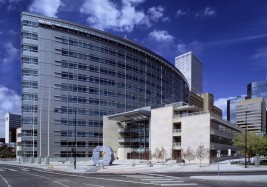 JRES Intelica CRE, formerly James Real Estate Services, is a diversified real estate advisory firm with a foundation of commercial and residential appraisal, appraisal review, market analysis, brokerage, and investment advisory services in Denver, Colorado since 1982. JRES recently merged with Intelica CRE based in St. Louis and assists clients with strategic direction and specific decisions for a wide variety of real estate situations.
As transportation oriented development, apartments, and affordable housing have become important segments of all real estate, JRES increasingly advises clients in these areas. As cooperation with the surrounding community becomes more important to real estate decisions, JRES advises property owners, lenders, governments, and community organizations with market and investment based real estate research and analysis.
Over the years, JRES Intelica CRE (JRES) has conducted real estate appraisal and consulting projects for a variety of institutional, governmental, development, and corporate clients along the Colorado Front Range, in mountain resorts, on the western slope and the eastern plains, and in several other states. Appraisal and market study assignments include office buildings, apartments and condominium complexes, shopping centers, hospitality, industrial, mixed use, "green" buildings and special use properties, single-family residences, residential and commercial subdivisions, and vacant land, both urban and rural.
Many of these engagements require extensive feasibility analysis of alternative uses and eminent domain analysis and consulting. Advisory services include assessed value appeals and arbitration, mass appraisal consulting, market and feasibility studies, development opportunity research, entitlements consulting and management, development and redevelopment cash flow projections, and development project management. Appraisal and market study purposes include mortgage loan underwriting and foreclosure, transaction support eminent domain, estate consulting, and litigation support for insurance and other types of dispute resolution including arbitration.
The Principals, Associates, and Affiliates of JRES offer in-depth experience at appraisal, review appraisal, site evaluation and selection, development analysis and implementation, economic and physical due diligence, project management, financing, marketing, transaction negotiation, and asset disposition. Brokerage services are concentrated in the single-family residential market in the Denver metropolitan area. Unusual property types appraised and analyzed include:
Residential subdivisions
Commercial subdivisions
Open space land
Mixed use properties
Transit oriented developments
Chemical distribution facilities
Refrigerated food processing facilities
Homeless shelters
Funeral homes
Automotive sales and service centers
Truck terminals
Bowling centers
Aircraft hangars
Car washes
Breweries
Family entertainment centers
Event centers
Worship facilities
Museums
Camp/retreat facilities
Theatre complexes
Health clubs
Educational facilities
Assisted living facilities
Correctional facilities
Golf courses
Restaurants
Hotels
Casinos
Bank branches
Self-storage complexes
Student apartments
HUD subsidized apartments
Executive suites office buildings
Medical office buildings
Hospitals
Mixed use properties
Music studios
Child care facilities
Ballet facilities
Animal sanctuaries
Equine hospitals
Fraternity/sorority houses
Pet boarding facilities
Self-storage complexes
Together, the Principals and staff of the firm offer a substantial base of diversified real estate appraisal, market analysis, and investment consulting experience. From its core appraisal discipline, the firm serves a variety of needs of its clients in a changing real estate market place with a solid foundation of fundamental objectivity and sound analytical techniques, occasionally making use of its affiliation with qualified professionals in complementary areas of expertise.
Principals in the firm include:
William M. James, MAI, CCIM, MBA – President and Director, Valuation Advisory Services
Stephen E. Ross – Director, Marketing Analysis
Denise Moore – Director, Multifamily evaluation
Ann M. Del Nigro – Director, Brokerage Services
Eric Karnes – Director, Market Research
Tammy Summers – Office Manager
To learn more about JRES and our services, please call 303-388-1100 or fill out our contact form.