Principals And Staff
Bill James, MAI, CCIM, MBA
President and Director, Valuation and Advisory Services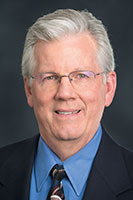 Bill began his appraisal career in 1973 with the commercial and investment appraisal firm of Shorett and Riely in Seattle, Washington and opened the company's first branch office in Anchorage, Alaska. In Denver since 1976, he earned an MBA degree from the University of Denver in Real Estate and Construction Management in 1979. Over the years, while conducting appraisals and market studies on a wide variety of semi-rural, residential, general, and special purpose commercial and investment properties, he has managed rezonings, development and redevelopment projects, and instructed appraisal courses.
Bill is a Certified General Appraiser (former member of the Colorado Appraiser Board) and a licensed Real Estate Broker in Colorado. He has been accepted as an expert witness in several jurisdictions and has performed appraisals and consulting assignments on a number of special purpose and narrow market properties, and under unique circumstances. These have included casinos, chemical distribution facilities, refrigerated food processing facilities, automotive sales and service centers, bowling centers, aircraft hangars, car washes, breweries, family entertainment centers, event centers, churches, theatre complexes, health clubs, assisted living facilities, golf courses, restaurants, and subsidized apartments. Many of these engagements required extensive feasibility analysis of alternative uses and eminent domain analysis and consulting.
Bill has prepared and taught appraisal courses at the University of Denver, University of Colorado, Community College of Aurora, the Denver Metropolitan Commercial Association of Realtors, and the Colorado Association of Realtors. In the Appraisal Institute, he is or has been Chair of the General Experience Subcommittee, Admissions Appeals Board and the General Appraiser Council, a member of the Board of Directors, Admissions Committee, Regional Ethics and Counseling Panel, Appraisal Standards Council, Master's Degree Program Subcommittee and a Director of the Colorado Chapter.
Steve Ross
Director, Market Analysis
Steve has over 16 years of experience in real estate analysis, consulting and appraisal. After earning his Bachelor of Science degree in Real Estate and Finance from the University of Denver and his Masters of Business Administration from Cal Poly, San Luis Obispo, where he emphasized Economics and International Business, Steve began his real estate career as a commercial real estate consultant in 1989 with The Meyers Group in Southern California.
After moving to Grubb & Ellis in 1991, he held several positions in the Research Services Division including Regional Research Director for the Pacific Northwest Region and National Research Coordinator. In 1996, Steve joined Marcus & Millichap, as National Manager of the Research Services Division. Prior to joining JRES Intelica CRE in 2003, Steve started his own independent real estate consulting practice in 2001 where he provided real estate market analysis, consulting services, and market overviews, evaluations, and projections of office, industrial, retail, multi-family and hospitality markets on MSA, regional and national levels to corporate and institutional clients. Projects completed for pension fund advisors, REITs and major commercial real estate clients include asset/market analyses, acquisition studies, development analyses and rehabilitation/repositioning studies of apartment communities.
As an appraiser and market analyst with JRES, Steve has completed appraisals or market studies for office buildings, retail and single-tenant triple net lease properties, auto sales and service centers, industrial buildings, mixed-use developments, residential condominiums, public housing, and residential and commercial land. Steve is a Registered Appraiser in Colorado and is approved by the Colorado Housing and Finance Authority as a Low-Income Housing Tax Credit Market Analyst.
Denise Moore
Director, Multifamily Valuation
Denise began her appraisal career in 1992 at Accredited Appraisers, Inc. as an assistant and then as Operations Manager. In 1994, she moved to JRES Intelica CRE and began to appraise single-family residences. Since 1996, she has primarily appraised apartment properties and condominium conversions with a growing emphasis on HUD related affordable housing including rent comparability studies and senior housing (assisted living) properties. She has appraised other property types but specializes in multifamily properties. Denise is a Certified General Appraiser in Colorado.
Ann Del Nigro
Director, Residential Brokerage Services
Ann began her real estate career with a major developer in the late 1980s and joined JRES Intelica CRE as office manager in 1988. In conjunction with her duties as office manager, she specializes in single-family residential brokerage. Ann is a licensed Real Estate Broker in Colorado.
Eric Karnes
Director, Market Research
Eric Karnes has researched and analyzed apartment, commercial, industrial and residential real estate markets since 1970. After developing, managing and selling Karnes Research Company, in Charlotte and Raleigh, North Carolina, Eric relocated to the Denver area and joined JRES Intelica CRE in 2000 and later retired. After rejoining JRES, Eric now maintains the JRES library of real estate market information, prepares the Real Estate Perspective and Apartment Perspective email newsletters, edits the Apartment Perspective blog and contributes to the Real Estate and Transportation Linked in Group. He also consults for several national development and investment companies.
Jeff McGhie, Matt Hamstra
Associate Appraisers
With the qualified assistance of Associate Appraisers, the Principals at the firm provide timely and accurate services and analysis to clients, relying on a wide variety of outside resources and an extensive in-house market database.
Tammy Summers
Office Manager
Bill and I have worked together for over 15 years on various projects and the collaboration has been very successful.

- Kent Bagley